Introduction:
Wood flooring has been used in a variety of interiors in modern construction. It has a long lifespan, requires little maintenance, and has an amazing natural appearance that many people appreciate. However, it has issues when used in wet or humid environments, such as bathrooms. In this article, we will discuss 10 ideas to make hardwood flooring in the bathroom.
Because certain types of wooden floors can be used in the bathroom, wood in the bathroom will require more maintenance than wood in other areas. Bathroom wood flooring is scary. However, if correctly installed, wooden floors in the bathroom can survive decades of hot showers and bath spray.
We will go over how to install wood floors in the bathroom, which types of wood flooring work much better, and how to protect your wood floors from water. We will also talk about wood floor alternatives that can look like wood but are not prone to water harm.
Is hardwood flooring in the bathroom a good idea?
The best floors are made of wood. It feels great on bare feet. But it is also true that bathrooms with wood floors are risky. Moisture is a major enemy of wooden floors. However, if you like the idea of wood flooring and have the resources to deal with any problems that may arise, go for it.
Wood flooring can be an excellent choice for a variety of reasons, but it is also dependent on your individual requirements and preferences. Consider the following pros and cons of wooden flooring:
Pros:
Aesthetics: Natural beauty of wood flooring can add comfort and charm to a room.
Durability: Wood flooring can last for decades if properly maintained.
Cleaning is simple: Wood flooring, unlike carpet, is easy to clean and maintain, making it ideal for homes with pets or children.
This adds value: Wood flooring has the potential to increase the market value of the property, making it an excellent investment.
Eco-friendly: Wood flooring can be an environmentally friendly option, particularly if it comes from being sustainably managed.
Cons:
Cost: Wood flooring can be costly, particularly if you select high-end materials.
Water damage: Moisture damage to wood flooring can result in warping and cracking.
Noisiness: Hardwood flooring can be noisy, particularly in multi-level homes.
Maintenance: Regular maintenance, such as sanding and refinishing, is required to keep wood flooring looking its best.
Finally, whether or not a wood floor is a good choice for you will be determined by your personal needs and preferences. Wood flooring may be an excellent choice if you want a long-lasting, attractive flooring option that adds value to your home.
10 Ideas to Make Hardwood Flooring In The Bathroom:
1. Solid hardwood:
Solid hardwood is a single piece of wood, typically 3/4 inch thick, made from a single piece of hardwood. It can be sanded and refinished multiple times over its lifetime and comes in a variety of stains and finishes.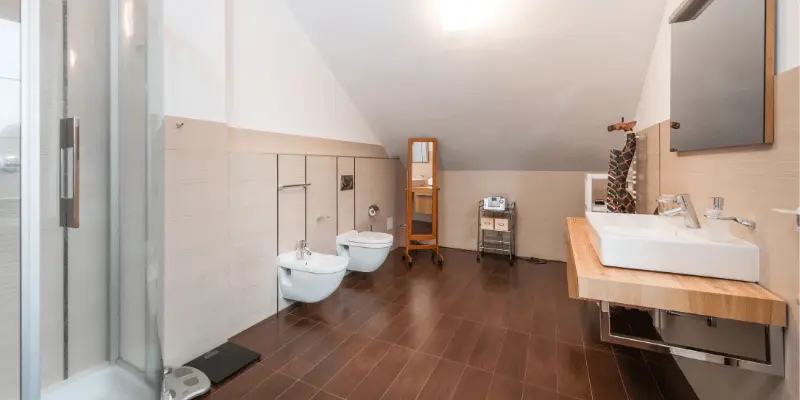 2. Engineered hardwood:
Engineered hardwood is a composite material made up of a fine layer of hardwood on top of a core of plywood or high-density fiberboard. It is more steady than solid hardwood and can be fixed over concrete surfaces.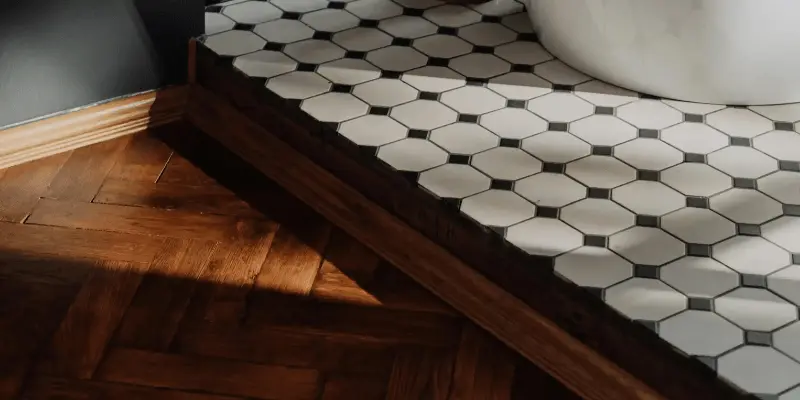 3. Bamboo flooring:
Bamboo flooring, which is made from the bamboo plant, is a reliable choice. It comes in a variety of colors and styles, and its durability and hardness are comparable to that of typical hardwoods.
4. Cork flooring:
Cork flooring is a sustainable and eco-friendly option made from the bark of the cork oak tree. It's soft and warm underfoot, and it is also moisture-resistant.
5. Laminate flooring:
Laminate flooring is a low-cost option made of several layers of composite materials. It's made to look like wood, but it's not as strong as solid or engineered hardwood.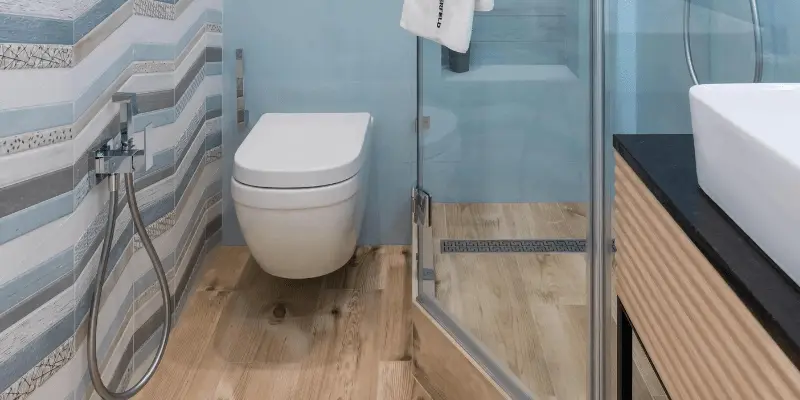 6. Parquet flooring:
Parquet flooring is a type of wood flooring that is created by arranging small pieces of wood in geometric patterns. It comes in a variety of styles and finishes and is frequently used to create a decorative look in a room.
7. Matte Wood Floor:
Glossy wood flooring offers a reflective and dazzling appearance. Matte wood flooring, on the other hand, is a less glossy or flat-finished type of wood flooring.
Matte wood flooring has gained popularity in recent years due to its more natural appearance, which may complement your home design. It also hides scuffs, scratches, and other imperfections better than glossy wood flooring, making it a great choice for bathrooms.
Matte wood flooring comes in a number of wood kinds, including oak, maple, and walnut, and may be stained in a variety of colors and tones.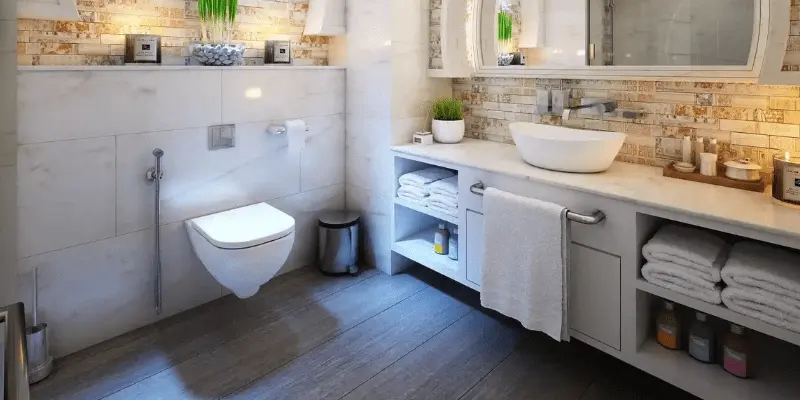 8. Reclaimed wood flooring:
Reclaimed wood flooring is a form of flooring constructed from reclaimed or recycled wood. It's a green and environmentally friendly solution that gives your bathroom a distinctive and rustic appeal. Reclaimed wood can be manufactured from a variety of wood, such as oak, pine, maple, and cherry.
Typically, the wood is cleaned, dried, and cut into planks suitable for flooring. The boards may maintain their original qualities, such as saw marks, nail holes, and weaves, which bring the flooring's charm and beauty.
9. Light wood flooring:
A modern bathroom with a light wood floor may create a cozy and inviting ambiance while remaining modern and clean.
To generate a cozy and organic atmosphere, choose a light wood floorings material such as bamboo or white oak. Lighter colors can also assist to enlarge a tiny bathroom.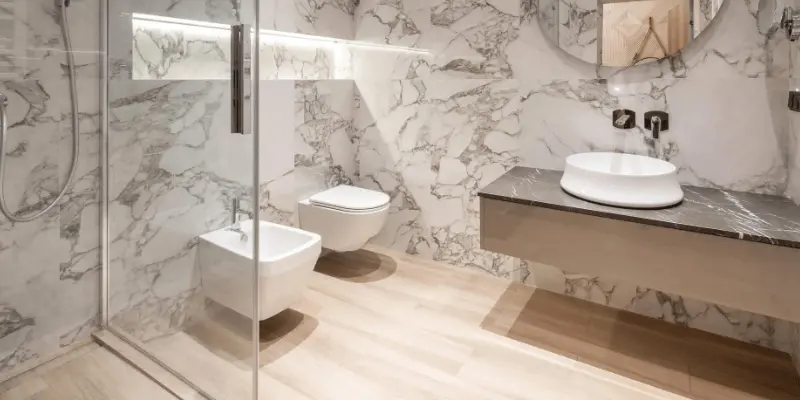 10. Wood plank flooring:
Bathroom wood plank flooring may give charm and natural appeal to an interior while also being durable and simple to maintain.
Not all woods are appropriate for use in a bathroom. Go for wood that is by nature moisture-resistant, such as teak or cedar.
Big planks may make a tiny bathroom appear larger, while smaller planks might provide an older-fashioned feel.
Overall, bathroom wood plank flooring may be a beautiful and practical addition to your area if you pick the right sort of wood and install and maintain it correctly.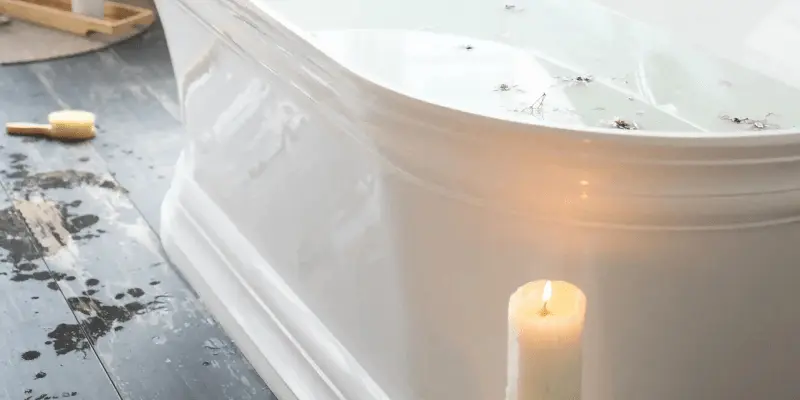 Conclusion:
Hardwood flooring in the bathroom may offer comfort charm and style to the area. But before making this selection, it is essential to evaluate a number of things.
If you do decide to put hardwood flooring in your bathroom, pick a type of wood recognized for its longevity and resistance to water, such as teak or cedar.
You should also make certain that the flooring is adequately protected to prevent damage from water. Also, any leaks or stagnant water should be cleaned up quickly to avoid deformation or similar harm to the wood.
Also, you may choose engineered wood or luxury vinyl plank flooring, which has the appearance of hardwood but is particularly suited for bathrooms. They are more water and moisture-resistant, resulting in a more secure and useful alternative for a bathroom floor.
Choosing to install wood flooring in your bathroom will ultimately be determined by your aesthetic preferences, money, and desire to undertake the extra upkeep and care necessary to maintain the floor at its most attractive.
Related articles: