Introduction:
Everyone desires a luxurious home in which to relax with their loved ones and families. Today we will discuss Luxury Interior Design Tips For Home. People believe that luxury home interiors can only be obtained with a large budget, but this is not the case. Here are some specialist advice and tricks for making your home feel lavish without costing too much.
Luxury interior decoration can mean different things to different people. It could be a formal room with a nice color combination, light fixtures, and wooden floors. Put another way, it could be a lavish lounge in an amazing setting with sequential sofas and decorative chairs.
High-end interior involves more than simply having to purchase expensive furniture. It's all about designing a space that complements your high-end way of life. Keep a look out for the conceptual Luxury Interior Design Tips For Home below.
Luxury Interior Design Tips:
1. Experiment with color and texture:
Let your imagination run wild and experiment with colors. Classic Blue, light grey, green, purple and maroon are the Vibrant color for the luxury design. This color inspires relaxation, optimism, and connection while remaining fresh and stylish. Combining vibrant colors is a suitable option for your lavish design.
2. Wall paneling in marble for your TV unit:
This will be considerably less expensive than marbled or wooden flooring. However, the marble TV unit maintains the allure of luxury home interior design. Matte furniture and embedded side tables with frosted glass tops can be used to glam up the decor even further.
3. Make the windows beautiful:
Windows and their frames with beautiful dressings are an essential component of high-end interior design. You will be captivated by window surfaces with elegant curtains. When you have larger windows, you can add a lot of height by putting the rod as close to the roof as possible.
4. Acrylic base kitchen:
Create a luxury-feeling kitchen with a white acrylic base, ceiling-mounted cabinets, and a glossy black dado. The acrylic reflects a significant amount of light, making the kitchen appear bright and lavish, whereas the black dado creates a strong contrast.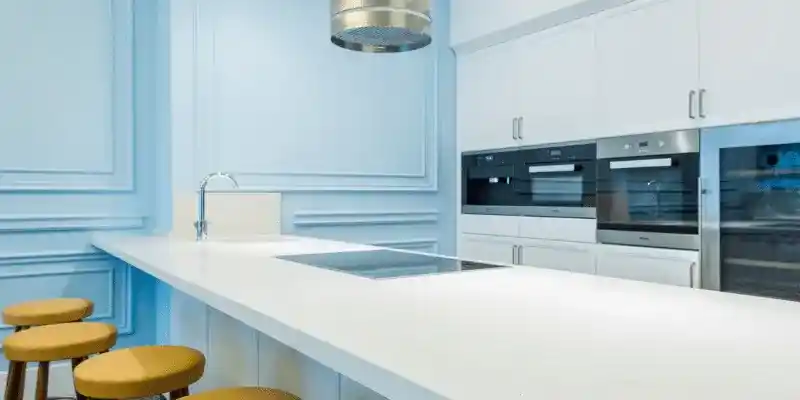 5. Purchase eye-catching artwork:
Rather than buying a lot of artwork, invest in one or two pieces of artwork. The most important symbol of a high-end interior is statement art. Choose your art wall carefully, including pieces that complement your aesthetic.
6. Include luxury furniture:
Purchase high-quality furniture that will stand the test of time to build the most lavish home. Pick elegant items that complement the visual appeal of your high-end home decorating.
7. Personalized the design:
The best way to define luxury home interior design is through personalization. Take into account custom furniture, artwork, and curtains. Personalized touches distinguish a high-end environment by showcasing the highest level of interior design results.
8. False ceiling with proper light:
Even if you spend a lot of money on furniture, poor lighting can ruin the look of your home. This is where a false ceiling enters the picture. It offers a variety of lights, making your home appear luxurious and lavish. The designer false ceiling with lights, highlights, and ring lights beautifully boards out the space and adds a touch of luxury.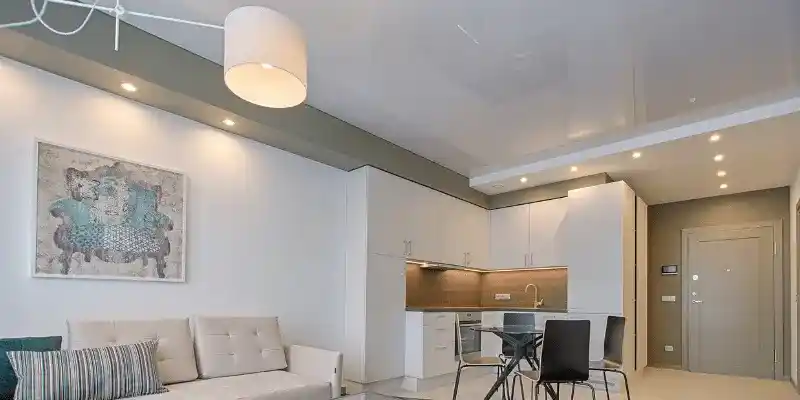 9. Include gorgeous wallpapers:
Beautiful wallpaper can add a royal touch to the interior design of your luxury home. Add an artistic wallpaper to add a finishing touch. To complete the look of your luxury home interior, hang some paintings or photo frames above the wallpaper.
10. Statement light fixture:
A statement light fixture can be an excellent way to add a luxurious shine to your living space. This luxury home decor can include an attractive mirror frame, a Buddha statue, and pendant lights.
11. Use a mirror with a metallic frame:
Metallic decorations are an excellent way to expand the lavish decor in your home. A metallic-framed mirror will add a luxurious touch. Mirrors help to create the illusion of a larger space while also reflecting light beautifully. Matte wallpaper behind the mirror adds to the luxurious home design.
12. Kitchen Cabinets with Brass Handles:
It can be expensive to add a strong coating to your kitchens, such as lacquered crystal or high gloss acrylic. Brass handles can give your kitchen a luxurious feel. It's an excellent way to update the look of your interiors without making major changes. Pair it with light fittings made of traditional materials to ensure consistency and to make your stylish kitchen interiors unique.
13. Bright marble flooring:
Marble flooring is always a good choice for high-end interior design. It is easier on the eyes, brightens the room, and adds a soft feel. Though somewhat pricey, the appropriate veins of Italian marble elevate your interior design. Ceramic tiles are less expensive options.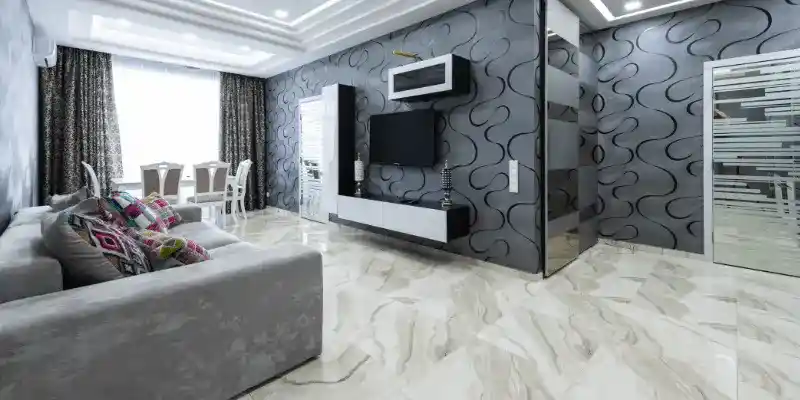 14. Long velvet curtains
Full-length curtains that extend from the roof to the floor create a luxurious atmosphere. Dark-colored velvet curtains are ideal for certain luxury residential room ideas. Velvet curtains in vibrant colors will add a pop of color to any room.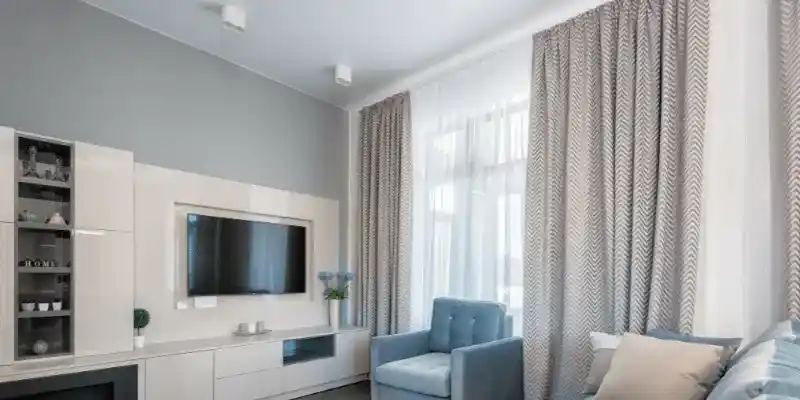 15. Setup for Outdoor Luxury.
The exterior view of the house has evolved into a lavish feeling. So, if you have an open area in your home, such as a back garden or small balcony, incorporate a natural ambiance as well as a high-end appeal.
Luxury Interior Design Tips; Conclusion:
I hope these Budget-Friendly Luxury Interior Design Tips have given you a clear idea of how to make your home lavish. We understand that designing a high-end living area can be challenging, but by following these tips, you'll get a jumpstart and make the deluxe interior design of your imagination.
Related articles: