Introduction:
This question comes to mind while making a kitchen for your beautiful home. So, in today's article, we will discuss the L-Shaped kitchen Vs. Parallel Kitchen, and also try to understand which one you should choose.
One thing that always comes to mind when buying or designing a home is the kitchen layout. If you enjoy cooking, you will always devote a substantial amount of time to food preparation in the kitchen. Your kitchen's location, layout, and size will have a significant impact on the overall design of your home.
As a result, before planning your kitchen, you should become familiar with various kitchen layouts. Is an L-shaped kitchen or a parallel kitchen better? There are a few things you should think about before starting to design your kitchen interiors.
L-Shaped kitchen Vs. Parallel Kitchen:
When do you need an L-Shaped kitchen?
The L-shaped kitchen layout is the most popular. This type of kitchen works extremely well in an open floor plan and develops by attaching units that run through the two adjacent walls.
The shape is also perfect for large kitchens. This is a versatile design that can be both aesthetically attractive and functional.
With enough storage space for multiple hands, this design is certain to grow professionally. Work areas are clearly defined in this design. The burner, refrigerator, and sink are all in close proximity to one another. It eliminates the need for you to move too far between spaces. This is ideal for large families who have multiple cooks and a small kitchen.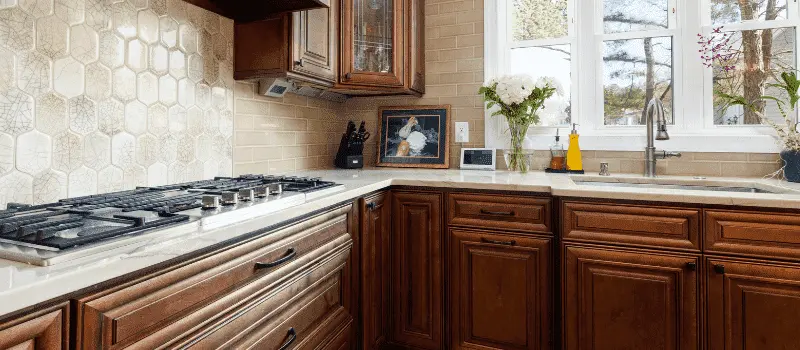 When do you need a parallel kitchen?
In a parallel layout, two kitchen segments run parallel with each other, every unit containing different components for cabinets, storage boxes, and equipment.
If there is sufficient space, a parallel kitchen may be an incredibly efficient layout. These kitchens can have different work zones because they have two stations and 2 pairs of cabinets.
Furthermore, the cooktop, refrigerator, and sink form a perfect kitchen triangle, creating cooking effortless. This is ideal for a nuclear family with a moderate kitchen.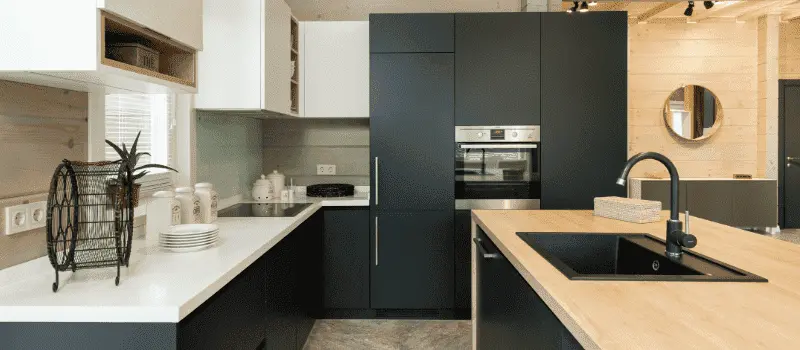 L-Shaped kitchen Vs. Parallel Kitchen; Advantages:
L-Shaped kitchen advantages:
Maximum use of the corner space:
If you have a small kitchen, the corner space cannot be wasted. By incorporating the magic corners into the L-shaped design, you can resolve the corner storage issue.
The adaptability:
This specific design is highly adaptable. An open L-Shaped kitchen, whether small or large, can be ideal for any type. You can put a middle island in a large kitchen if you want to make it more attractive.
It is simple to divide:
The L-shaped layout separates your meal planning area from the cooking area.
Workspace that is easily accessible:
Because the three main areas are separated from one another, implementing the work area is super easy with the L-shaped layout.
Parallel kitchen advantages:
Convenient:
This design is incredibly handy because you can switch easily among both two separate components with no interruption, so you can quickly adapt to the triangle.
Best customization:
Because two components run through two walls, you can build a large kitchen counter area as well as a lot of extra storage. You can easily change both to meet your needs, and you can broaden the kitchen counter area.
It is appropriate for multiple cooks:
This design allows 2 cooks to work in the kitchen simultaneously.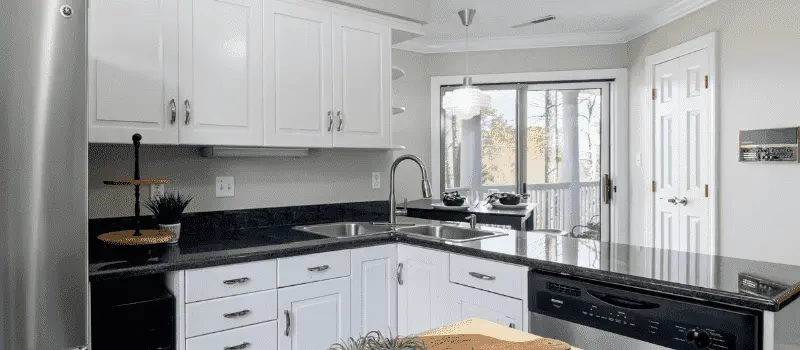 L-shaped kitchen special features:
Pull-Out Pantry:
Because most modern homes lack a dedicated kitchen pantry space, a pull-out pantry is an excellent addition to your L-shaped kitchen.
The tall unit:
Tall units, which function as wardrobes in your kitchen, are highly customizable and can easily accommodate the needs of your family. It also allows you easy access to your wine storage.
Corner Magic Unit:
Who doesn't want to waste small spaces, a magic corner unit will do an excellent job of making the most of your corner L-shape in the kitchen. The magic corner is a basket that pulls out and is connected to the shutter.
Parallel kitchen special features:
Appliance Storage Garage:
In your parallel kitchen, you can include an appliance garage. That is a tall unit that accommodates your blenders, kitchen appliances, and so on.
Swing Larder:
A swing larder can be used to create tall pantry storage. This keeps your countertops clutter-free.
Floating Shelf:
This can be a great addition to your parallel kitchen if you like your spices, sauces, and daily ingredients in the correct position. You can also hold your knives and forks, spoons, and other necessities with hangers beneath the floating shelf.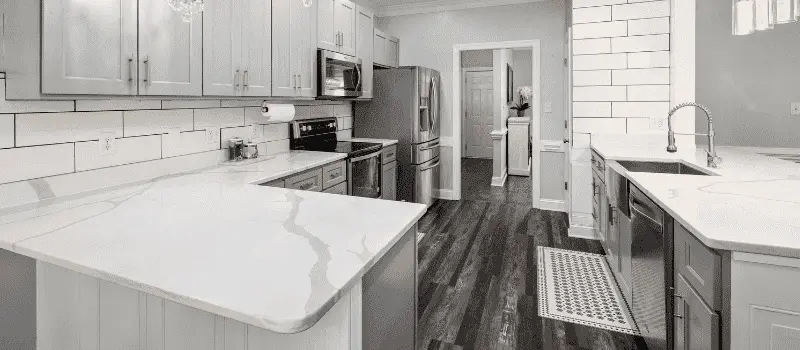 L-Shaped kitchen Vs. Parallel Kitchen; Disadvantages:
Disadvantages of L-Shaped kitchen:
There can't be two cooks:
With an L-Shaped layout, it cannot accommodate multiple cooks in a small kitchen.
Storage space may be limited:
You have a limited amount of space to construct your space and other components.
Can't create an island:
This shape could work well for a small nuclear family. You may need an island to build a separate area and storage space, for an L-Shaped layout, it is not possible.
Disadvantages of parallel kitchen:
Not suitable for open kitchen plans:
This design is not suitable for an open kitchen. It is only useful in closed areas.
It is inconvenient for a small space:
If the area is small, there won't be very much room to move around in the center.
Equipment placement issue:
The placement of the equipment could be a problem. You must carefully plan the placement of each appliance.
L-Shaped kitchen Vs. Parallel Kitchen; Conclusion:
Both the L-shaped and parallel kitchen designs are distinct, with benefits and drawbacks. Continue to compare both, keeping your kitchen space in mind as well as your specific needs, so you can select the best one.
Related articles: