Introduction:
Best Kitchen Designs transform as the year passes in the world of interior design. As individuals and homes become more creative, a variety of unique ways are developed.
Also, many old styles are still employed and considered stylish in today's new trends. As a result, we'll be concentrating on building the most amazing kitchen designs in the present times.
We picked 10 of the most popular best kitchen designs and colors from across the globe for your understanding of the latest kitchen ideas for 2022.
The examples are given below:
1. Complete white kitchen:
White kitchens and furnishings are one of the best kitchen designs that are always very popular due to the beauty and elegance of the design features.
Therefore, white kitchens have been popular for the last few years. The color white is calming and clean, neat and elegant, and the light always improves, ensuring that the space does not seem lifeless. Each of these traits is required in a congested space.
White is also easy to modify and can be matched with any other color. You can use white color with white natural stone countertops or light fixtures.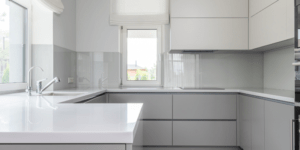 2. Complete Black Kitchen:
As white kitchens gain popularity, black kitchens also gained popularity due to their elegant and dark appearance.
An all-black kitchen communicates passion, elegance, and mood changes, which someone with a serious mindset may like.
An all-black space with a more cozy and comfortable touch is always elegant, and sophisticated. Other colors that clash with black, such as white, can help to highlight the room's attractiveness much more.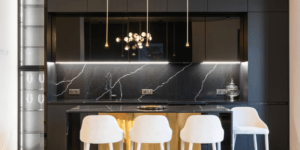 3. Wooden finish kitchen:
Wood surfaces generate a sense of peace since they are generally associated with something much more natural than any other material. Wooden kitchen themes are one of the best kitchen designs in the present day.
Hardwood finishes are attractive and add a classy touch to the trendy kitchen's design aesthetic. As a result, wood textures are slowly making a comeback in creative interior kitchen designs.
Walnut, eye-catching ash, and varnish wood surfaces, are some common types of wood finishes. They can be utilized to create a modern feel in the kitchen overall look.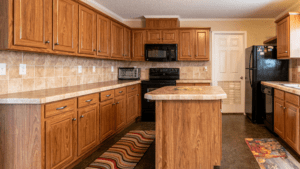 4. Marble Counter Top:
Marble is a common pick for constructing luxury designs because of its timeless elegance and sophistication. Architects and kitchen lovers like marble with a lot of shading.
It not only conveys a sense of increased sophistication, but also contrasts well with many other pieces of interior decor, such as hardwood, stainless steel fixtures, and glossy materials.
As a result, marble is certainly looked after for the best kitchen designs because of its gaze and fashionable features and hence is at the front of the kitchen
ideas list.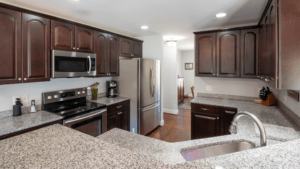 5. Kitchen with double layout:
Due to their elegant and lavish appearance, double countertops have always been attractive in kitchen designs and they will remain to be so in the long term.
Twin layouts might be costly, but they are worth considering if the finances allow them. Double setups are strongly advisable for large, fully open kitchens, and if there are no space constraints.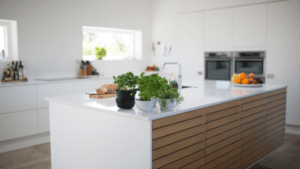 6. Open Shelving Design:
You may display your lovely kitchen accessories and other antiques and collectibles on open shelves. Because you can see into your kitchen, all very easy to find.
Just clean your stuff regularly because it will be exposed in your kitchen. Daily things should be kept on the lowest, easiest-reachable rack.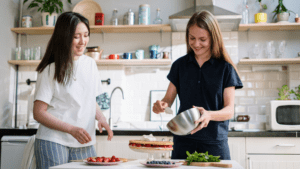 7. Mix and match with different colors:
Using colors to create a modern, customized appearance in the kitchen is a cost-effective and simple method to do it. Color is going to add liveliness to everything in the kitchen, including utensils, walls, and ground.
Color mixing is obviously high on the priority list of current kitchen trends, and they're also cost-effective if you're planning a renovation. Colors may be utilized to make a kitchen seem elegant, lively, and vibrant.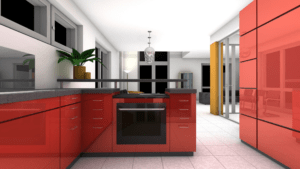 8. The glory of Stainless Steel:
Stainless steel has never been out of style in kitchens as it gives a very advanced and sleek appearance. They blend perfectly with the surroundings while making a stunning aesthetic impact.
Although stainless steel is somewhat more costly, this will never go out of style for kitchen designs, such as built-in small appliances, thus it is in great demand and strongly recommended for large spaces.
It's also extremely long-lasting which makes it a popular choice for kitchens. As a result, stainless steel is a practical and highly recommended alternative for modern kitchen design.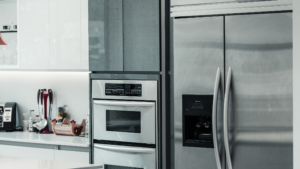 9. Kitchen with Two Colors:
Double-toned kitchens are the newest design trend. You have a broad range of stone and solid-color finishes to select from.
A beautiful combination of white rough tile and strong royal blue looks absolutely amazing. To get a luxury effect, choose matt textures or longer laminates.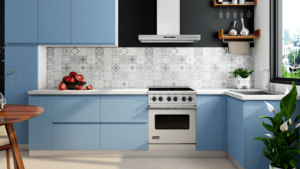 10. Environment Design:
Because we are all becoming more environmentally concerned, our best kitchen designs must represent this. In your kitchen, try to have as much indoor or overhanging greenery as possible. This will create a different and close environment feel in your kitchen design.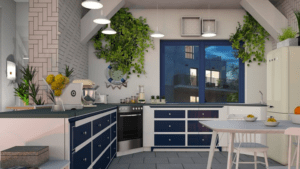 Related articles: