Introduction:
The design of your office, store, hotel room, or hospital is very different from domestic interior decoration since these areas demand efficiency and some attention to aesthetics. Different types of workplace locations necessitate different types of services. In this article, we will discuss some of the Commercial Interior Design Ideas to make your business place more attractive and generate a good working environment.
A modern style of interior design with the expansion of available space is the current trend. A good interior design service begins with a full-color scheme, comfortable chairs, other furniture items, appropriate installation of specialized equipment, and many other things.
Why are Commercial Interior Design Ideas important?
Beautiful interior design may be found not only at home but also at work. Along with the home, people have begun to pay special attention to the interior design of the business.
Before starting the office interior work, all information about its inside is gathered. Professional interior designers are becoming more important as individuals become increasingly concerned with having the perfect interior.
Both in the commercial and private sectors, along with the house, people have begun to expect beautiful and modern looks in beautiful flooring design, wall design, ceiling design, furniture, lighting, and so on.
The simple-looking component of the office is made appealing by the interior design. Along with the office, interior design is prevalent in all areas, including hotels, schools, universities, and showrooms.
Interior design trends these days include modern, classic, high-tech, and ethnic themes. People insist on personalized planning based on their preferences and budget.
Commercial interior decoration should produce aesthetically appealing environments that follow a certain theme. Good business decoration has a big impact.
A well-designed area at a retail outlet can appeal to customers, causing more people to enter the business and spend a long time there. A business interior design project may seek to generate themes that convey a certain company image.
Few Commercial Interior Design Ideas:
Make Personalized Areas Available:
Making customers feel comfortable in customer-focused enterprises such as hotels and restaurants. Allow them to choose a more pleasant environment. Creating a business interior design plan to build their surroundings with facilities that respond to individual tastes and interests.
You may give multiple seating options for restaurants, such as general indoor, lawn, or rooftop seating. Customers can then select the location that most appeals to them. This is one of the best Commercial Interior Design Ideas you must implement if there is enough space available.
Workplaces with an open floor layout concept:
Open floor layouts are one of the most visible trends in office interior design. In this age of flexible and global workforces, modern interior systems enable employees to work and enjoy their surroundings in the way that best suits them.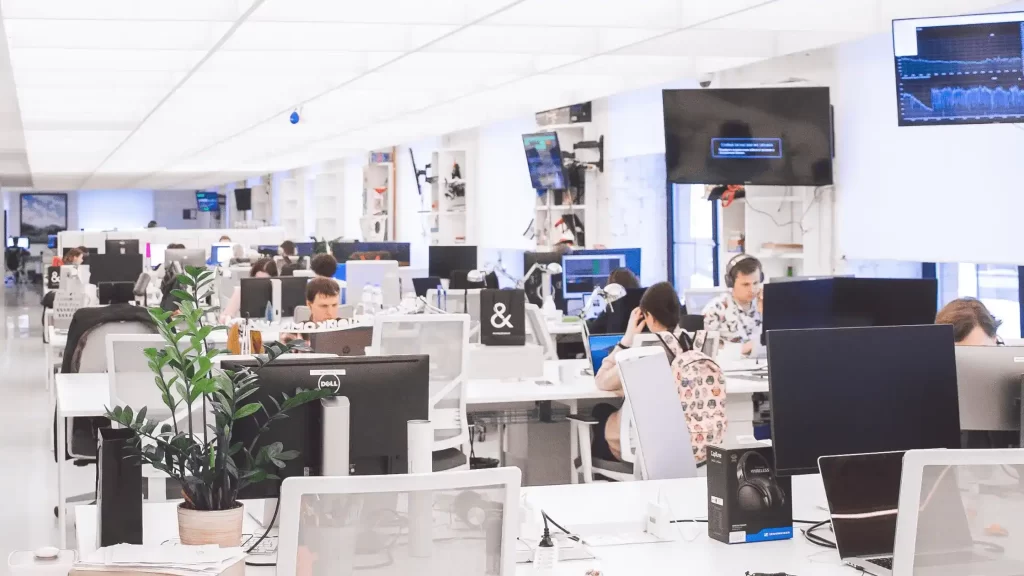 Maintain Elegance:
When constructing an interior design area for business purposes, interior designers sometimes ignore the visual features in order to emphasize efficiency. But, in the years ahead, this may have an impact on the general sophistication of the business area.
Regardless of how good the interior is, a boring, monotonous, and lifeless interior space can never convey good sensations. As a result, the commercial interior should include interior beauty.
Update the area with new decorations and furnishings to reflect current trends. The floor area may be created in such a way that it can change and also be rebuilt over time.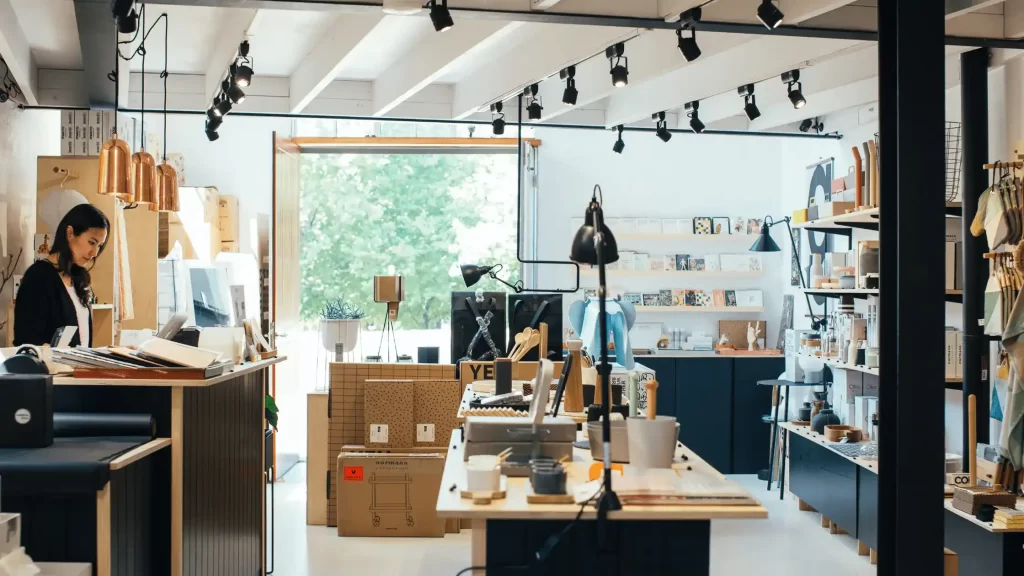 Ensure your safety:
When designing a business workplace, safety is the most important issue to consider. It is crucial to ensure that no safety rule is overlooked in the interest of aesthetics or usefulness.
Adjustable Furniture:
Adjustable and Flexible furniture, such as standup workstations and changeable tabletop heights, make employees comfortable. Many individuals might prefer to stand up for some time, while some people like to work at a modified tabletop height. 
Privacy is important:
This is essential to keep certain separate places available for conferences, and phone conversations. You can use frosted glass, or a sliding door to make a separate room. In an open floor design, little amount of privacy is essential. Also, you can place a divider between the two workstations if possible.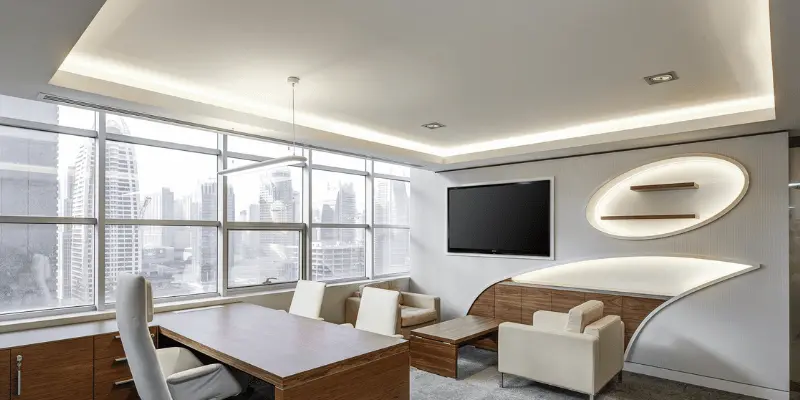 Sound Absorption Technologies:
Office interiors must contain sound-absorbing measures. This is a way of reducing noise in space by employing sound-absorbing materials. The sound-absorbing system of your workplace is essential to long-term performance.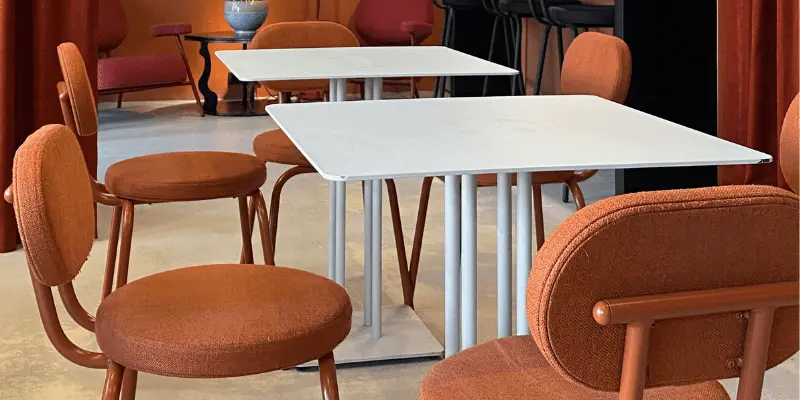 System integration:
The interior design of a modern corporate organization is heavily influenced by technology. Technology is used by retail businesses for contact, management, and sales. As a result, it is vital to design commercial facilities for user comfort from a technical standpoint.
Phones, the Internet, and computer networking are all key issues. A design for building centralized electronic control systems is also required for the safety and efficiency of consumers or employees.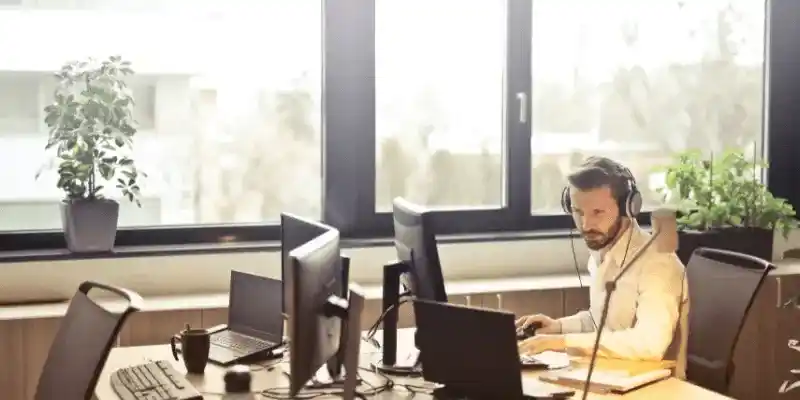 Pick the right color:
Color should be used with caution in office interior design. Color has an effect on mood. Consider how you want your office interior design to evoke emotion and change mood.
Area for recreation:
Staff personnel requires a space to chill. Employees may relax in places like cafés and playrooms. Lounges with comfortable seats, and couches, or are a wonderful way to enhance togetherness. A space for recreation is one of the best Commercial Interior Design Ideas to implement.
Natural light:
Sunlight in the workplace makes employees feel calmer and more enthusiastic, and it may give consumers the impression that your area is larger than it is. Employees feel exhausted because their office lacks natural light or a window. As a result, natural light is essential.
Related articles: