Why do you need a false ceiling?
A residential or business space's interior is incomplete without a good ceiling. The most important component in making the space more appealing is the false ceiling. Making beautiful false ceilings with decorative ceiling panels allows you to truly express your artistic side. In this article, we will discuss the Most Commonly Used Type Of False Ceiling for home and commercial spaces.
Aside from their appearance, false ceilings offer important features that improve their utility in a variety of ways. False ceilings can be used as a sound absorber, allowing unwanted sounds to be silenced. They support electrical cables, pipes, and ducting. False ceilings may both highlight and spread light, minimizing the need for extra lighting and, as a result, energy consumption.
So, a false ceiling serves both functional and decorative purposes, which may substantially increase the elegance of an interior. These ceiling tiles employ a range of materials to provide a diversity of qualities.
Most Commonly Used Type Of False Ceiling:
POP (Plaster of Paris) false ceiling:
POP is the most commonly used type of false ceiling material in both commercial and residential applications. POP is low-maintenance, long-lasting, and a good insulator. It's a white powder that solidifies quickly when added to water. This mixture was dried and then placed as the false ceiling.
POP artificial ceilings can be built in a variety of ways, resulting in both uniform and up and down surfaces. It's also a great substance for boosting brightness.
POP is a long-lasting artificial ceiling material. The same compound is utilized to close all of the connection lines, it produces a smooth aesthetic with no visible gaps. The paint holds really nicely to the POP ceiling. POP is a fluid substance that can be formed into any form. The biggest downside is that it may break with time.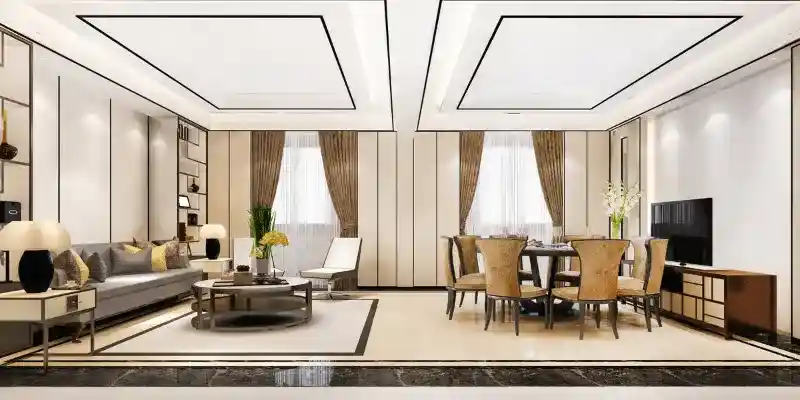 Gypsum panels:
Gypsum is also the most commonly used type of false ceiling material. It comes in the form of produced rectangular panels. Gypsum panels are incredibly strong and durable. These are simple to install and emit nearly no dust all through the installation. 
There you will find a few obvious connecting lines in the ceiling. While painting, the gap can be filled. It is also fire resistant and sound insulating. The boards have an extraordinarily flawless surface finish. To complete the ceiling, paint or wallpaper might be applied.
The drawback of a gypsum ceiling is that visible cracks in the ceiling may form in long run. This is not suitable for damp areas such as the bathroom or exterior since it absorbs moisture and breaks.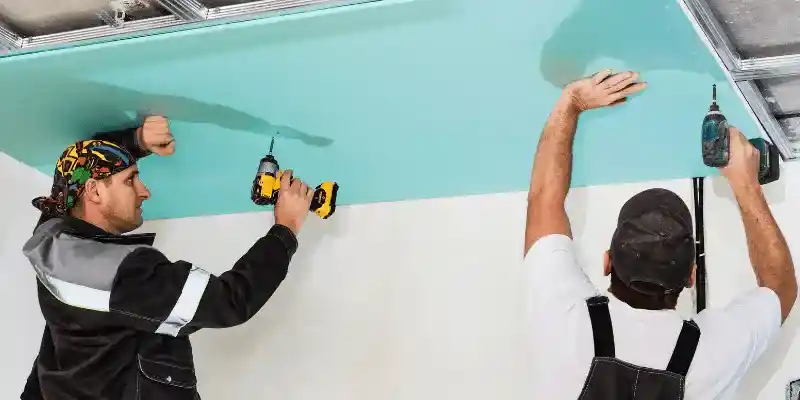 Wooden ceiling:
Wood is a popular and often used false ceiling component. A lovely false ceiling made of wood may be used mostly in home interior design. Its main advantage is that it may be shaved into any size. Wooden ceilings may give your home design an elegant or sophisticated trendy atmosphere. Wooden ceiling panels are joined to the main ceiling and coated with veneer or gloss.
Wooden ceilings are unique due to their lovely grain texture. It is suitable for both modern and classic interior decoration concepts.
The biggest downside is that wood is expensive. Also, termites may damage wood ceilings.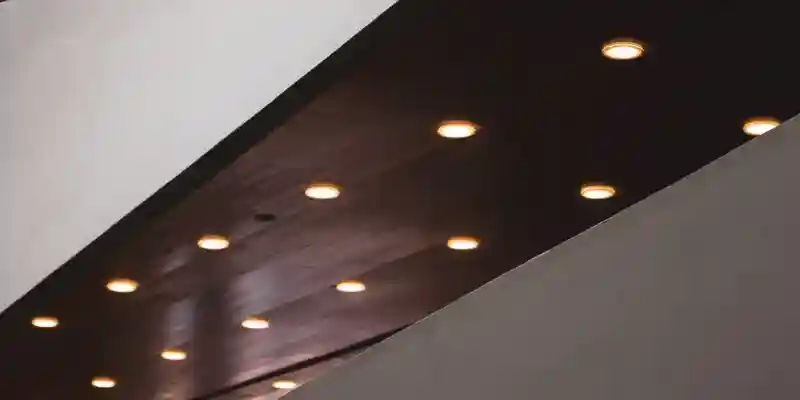 PVC (polyvinyl chloride) false ceiling:
As a false ceiling material, PVC ceilings are a suitable choice for water resistance. This is a lighter and cost-effective false ceiling substance that is popular for both residential and commercial interiors.
PVC is a durable plastic substance that has a smooth polished finish. It can be produced in any size and form based on the requirements. This is the most commonly used type of false ceiling where water leakage is a major issue.
Because PVC is very water-resistant, it is the best solution for ceiling leaking issues. It is light, termite-proof, and needs no maintenance.
PVC boards are long-lasting and may be used for a long period without cracking or breaking. Because of their flexibility and lack of brittleness, they are easy to handle. It is less expensive and easier to install.
The disadvantages are as follows: The junction between the panels may be seen sometimes. Because it is composed of plastic, it might be damaged by extreme heat.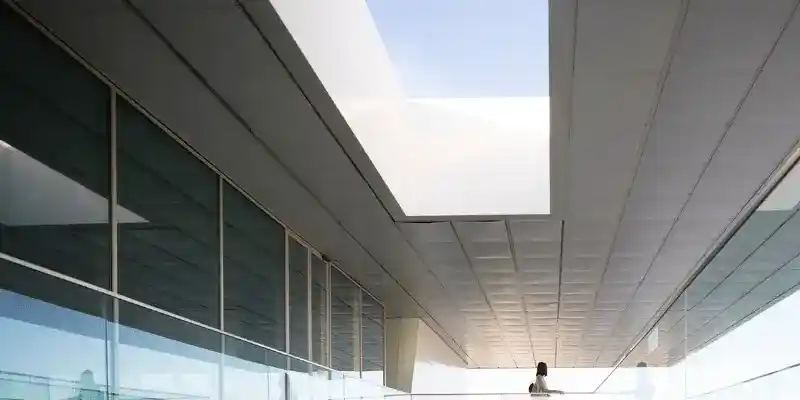 Metal false ceiling:
Steel, aluminum, or galvanized iron are common materials for metal false ceilings. The metal false ceiling is simple to install. These come in a range of sizes and shapes. Metal panels are suspended from a metal grid with a T section.
Metal boards are incredibly durable and long-lasting. They do not break or deform over time. The metal ceiling gives a high-end polished and royal appearance.
The main downside is metal boards are costly. Also, the metal ceiling needs surface coatings to prevent rusting of the metal plates.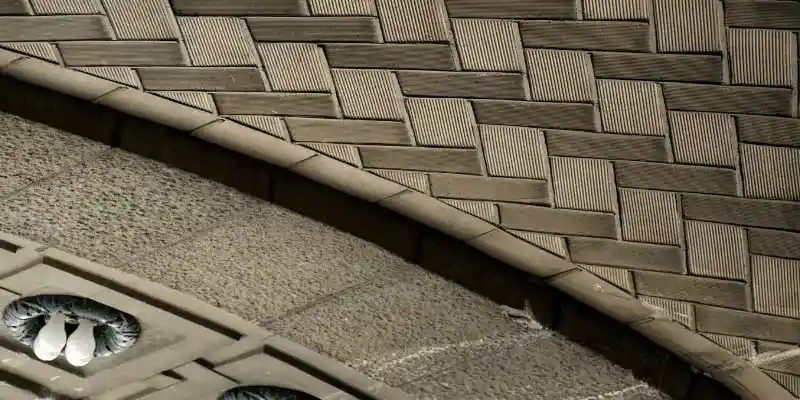 Fibre False Ceiling:
It is well-known for its excellent insulating characteristics, including sound absorption. Fiber has good properties such as stiffness, hardness, and heat resistance, making it a popular false ceiling material for commercial interiors.
Fiber is good fire resistance, and it also improves sound protection. It is a hard and long-lasting substance. The main downside is, that it needs regular maintenance.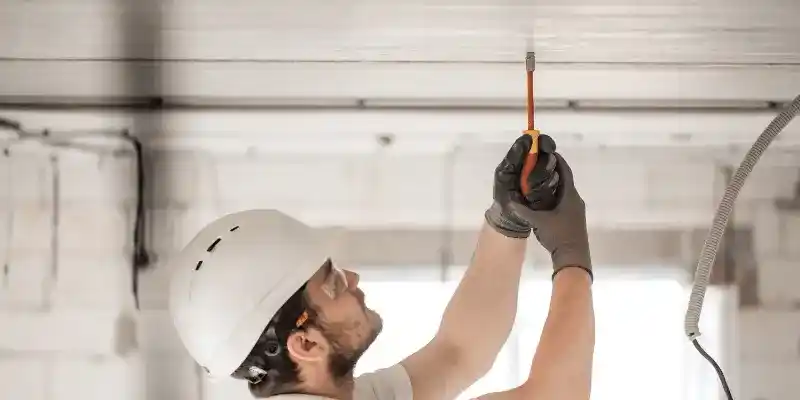 Related articles: